Management Philosophy
We will strive to build a future industry that
can embrace the world with change and innovation.

SPEED Management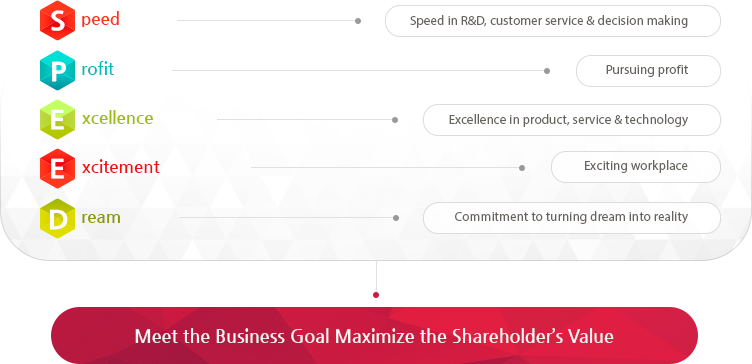 01Mirae does not wait for the future but create the future
Mirae Corporation is in a constant pursuit of creativity and change that will make a better tomorrow.
Moving forward is about anticipating, accepting and reacting to change. There is no progression for those who dwell on the present yet fear change. This applies for both an individual as well as an enterprise.
Mirae is not afraid of change nor failure as we aim to absorb the wisdom through our failures. Our direction is to move forward to a place where the life of mankind will be enriched by developing new markets and technologies.
The management and employees of Mirae Corporation make a vow to continue the constant pursuit of innovation and creative development and to learn from the accomplishments that have been made up to now.
02Members of Mirae Corporation are committed to promoting creativity & innovation
This is an enterprise culture that Mirae pursues to cultivate.
Providing our employees with a sophisticated and functional environment in which to work in is a standard for promoting creativity and innovation.
Mirae Corporation's working environment encourages the brightest and best minds to face any challenges.
The history of Mirae is rooted in a culture emphasizing "integrity", "free will" and "creativity."